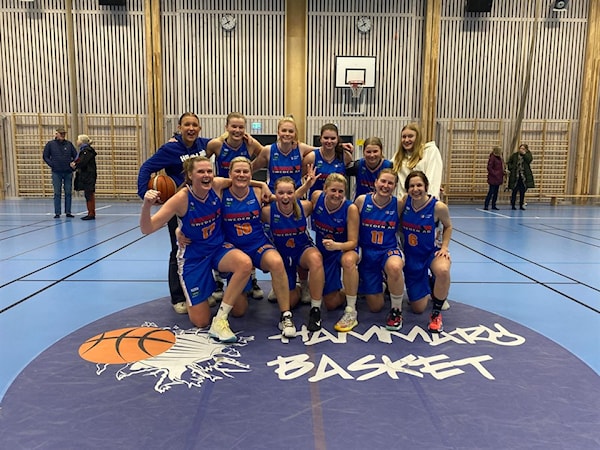 Best performance yet!
Hurricanes - Arvika 69 - 36 (17 - 10, 18 - 8, 18 - 8, 16 - 10)

Weekday game, thats always a little special and you dont have the usual game-day preparation. Me, for example started the day with teaching highschool kids about the period between the world wars. One time, I said something like " And then Great Britain and France said enough, foul on Germany!". Quite obvious that my mind was somewhere else this morning...

A tougher Arvika from the lineups, more experience and more skills from a division up. Some might argue that we should play there as well, and they would have a valid point looking at us today, and you can always be "after-wise" (I dont know how to say this...) The reality is that the team had a very different set up about 6-7 months ago. Injuries, operations, different work schedules, pregnancies, no international players, young players not ready for higher leagues and so on. Lets close that chapter fully now.

We play our best game of the season against the best opponents so far. We had a solid defensive structure most of the time and switched between man-man and zone, sometimes in a very beautiful and, for the opponents, confusing way and this time we looked like the good old Hurricanes. No fear. No excuses. Hard work. Good speed. We took an early command of the game .We make 7-0 and force Arvika to an early timeout. They get going a little bit but then we step up again. We utilize our bigs good, control the boards and run.

Solid lead at half-time with 35 - 18 and we feel that even though we are bigger and stronger, we also run better and work harder than them. Thats a dangerous combination, both size and speed and we tried to speed it up even more after halftime, almost too fast and we made some sloppy plays here and there.

The second half looks more or less the same. We utilize our bigs in the half-court offense and run with our quick players. We make several runs in the second half, with about 6, 7 or 8 to 0. Thats very good mentally. Arvika tries to press and we solve it okay for the most part. Once we beat the first line in the press we have numbers and use it well. Patience and good passing were the keys there. I think we control Arvikas best players, the tall and quick forwards, pretty good overall.

All in all. A very good performance from us. We make smart choices and find good solutions throughout the game. We feel better in every department of the game. We are doing a much better job on the boards and using our physicality in defence. It should be hard going against us. We only let them score 10 at most per period, that means defence did their part today.

We put our youngest youngsters in charge of the timeouts in the second half. They did brilliantly and spotted good solid advice to the team. Also, remember that we speak english in the team, so even more impressive. Good job "mini-coaches"! "Old coach" is proud! Good lesson for them!

Next game is against Kungsbacka, also at home, on the 25th of february at 16.00. Lets bring more of the same. Good solid team effort. Yes, we had a player who scored a lot today, but remeber that she is dependant on smart choices and delivery from the team. We score together in that way - the Hurricane way!