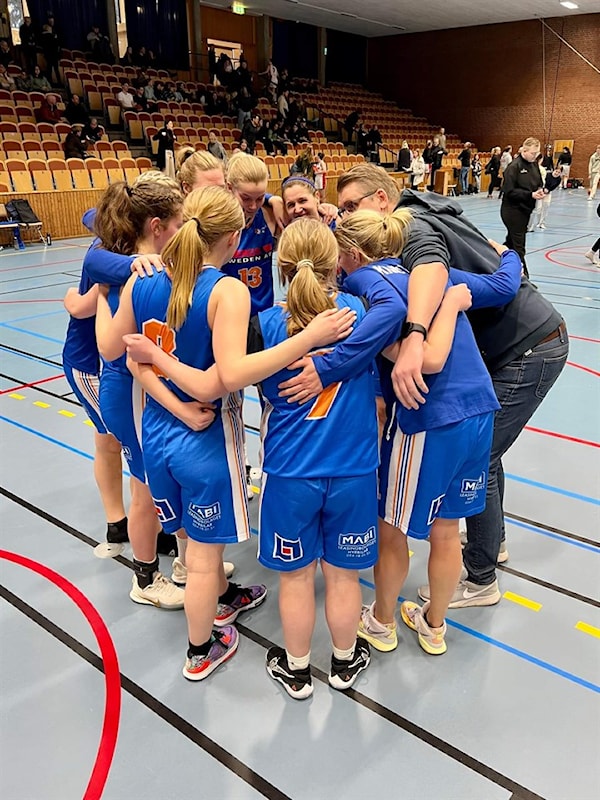 Third straight - ay ay shipmate!
Arvika - Hurricanes 39 - 64 (10 - 15, 8 - 11, 10 - 18, 11 - 20)

Look at that title...That rhyme is next level...

Time for another away game, this time against Arvika. An opponent we have played many times, although you never really know exactly who to come up against. They are, unlike us, blessed with many players among the older girls/womens teams.

Our game goals were to really contest shooters and play tough defensively and to make sure we have spacing in offense to allow for our different cuts and give everyone room to shine. Also try to control the boards. We did run into a ferocious opponent on the boards. They outworked us and got many second and sometimes third chances. Coach angry. Not okay! We noticed we were behind them almost even before the shot went up, and they got great positioning on us under the baskets. Credit to them. We had the lead at half-time but felt that we perhaps just played our worst half this season. We could not score the easy ones and it was "ring out" many times. That sometimes happen in sports, you really cant start clicking.

In the second half the game settled and became a little more clean. Not so many mistakes and a more calm and collected effort from us - back to basics and an increase in aggresiveness. Coach was still not happy though, but coach is almost never happy or satisfied during games. The team knows this. Thanks to good speed and a better and smarter collective effort on the rebounds and defensively as a whole, we managed to slowly take full control of the game. We have many threats offensively, and that showed in the second half.

All in all, we are happy with the game. There is never a set script in sports and you have go invent one during play. Our movie was never on a Spielberg level, but it definately improved. This team is very special. They look after their shipmates (see, title explained) like they are lost out on the ocean. They pick eachother up time and time again, and it feels like everyone knows that their contribution to the team could come in many ways - and everyone´s contribution is of equal value in the team game. Extra fun to see our youngest girls really trying to make an impact in the game today. Its not easy to be around your mid-teens and compete with adults.

It is also very encouraging to hear people watching (not only "fans" but also from Arvika) saying "It is always so fun to watch Hurricanes. You are quick and make nice looking offense and you look happy together with great team spirit". We are happy that we can entertain the crowd and we are happy together. We go up 3-0 in the league, but if a loss or two comes, I think this team would just get even tighter as a group.

Next week we play Örebro away - thats going to mean another tough game, more team spirit in the team chat and on the court. Probably a coach that is never satisfied and maybe some entertainment. Lets fix our toes (yes there is a toe-epidemic) in the team and lets go again!