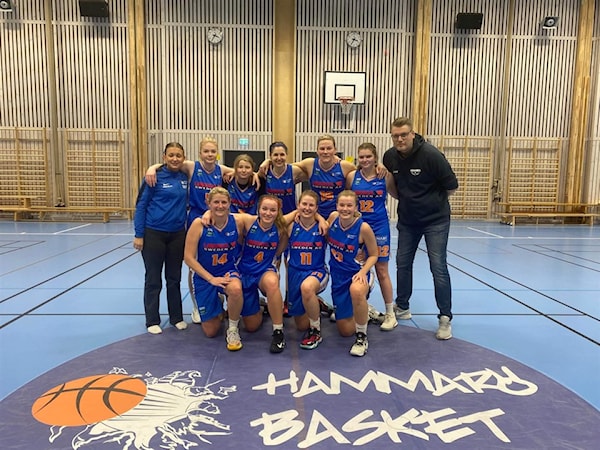 Hard fought homecourt opener
Hurricanes - KFUM Örebro 59 - 39 (14-10, 21-6, 16-12, 8-11)

There have been some new players in the team, from abroad. We will try to keep the gamereports in english, and I most definately does not possess perfect sentence construction in swedish so we will see how the english goes. 9 players in the team today, with a very good practice-week behind them. Overall I think we are in a pretty good state given the conditions and the fact that this was only game 2 in the season. You could almost feel the atmosphere in the team today. Homecourt is homecourt, that never changes and it means a lot to play at home in front of our loved ones and maybe a fan or two, who knows... After all, it was about 9 months or so since we played a real game at home. During that time, the team had two births! We are all very happy and exicted for Helena and Louise, who will become the best moms ever. Also, two babygirls - two future Hurricanes? Lets hope :)

A decent crowd watched Hurricanes welcome KFUM Örebro. A team that we have not played against many times, and it was a couple of years ago. Some familiar faces and some new. Still the same aggressive approach and they made us work hard today, just as it should be, earn it! It was their first game together, and they will only get better as time goes. Not a team to take easy and we will need to be ready to compete with them in the future!

We did a good first half, especially in the second quarter, where we made a leap thanks to very good outside shooting from threepointland. We tried to speed things up on the break and got some easy buckets as well as some aggressive defensive stops which led to steals and more easy points. We knew from before that Örebro usually comes out very strong in the third quarter, which also usually is our worse, so we tried to make sure to not stop playing hard. It worked ok. We were able to keep our lead and the second half is almost even steven. It never really felt safe though, despite the scoreboard. The "cruisecontrol" basketball in the lead never felt like an option in this game. Örebro never gave up, and fought hard to the very end and had some bad luck sometimes as well.

Our game is good when we run hard and try to make decisions if we should push all the way or transition to halfcourt offense quickly. Sometimes we tended to overcomplicate things and make the hardest possible pass. Does not work against Örebro. We had some sloppy, unforced turnovers which we need to clean up for the furure. What works is keeping it simple, follow the offensive rules, read the defence and exploit the defence. We hade some great combinations when we stuck to our game. But hey, its basketball = "Organized chaos" and there will always be things that could improve. What we did really good as a team is fight on, despite things not going in our favor sometimes. That is encouraging to see from the side. We endure, and just grind on... Defensively we had a tough time defending the insideplayer of Örebro. We figured out more and more during the game how to be early in defence to try and keep her away from the basket. I think we defended the threepointline good overall and did not give Örebro too many easy shots.

We have now faced all teams in this little league, although one as a practicegame. I think that the level is good. I would argue that its like division 2.5, teams and players can definately play and there are no players just in it for recreation. Its tough and competitive and we look forward to the spring.

We now have a couple of away games before returning home in about a month.