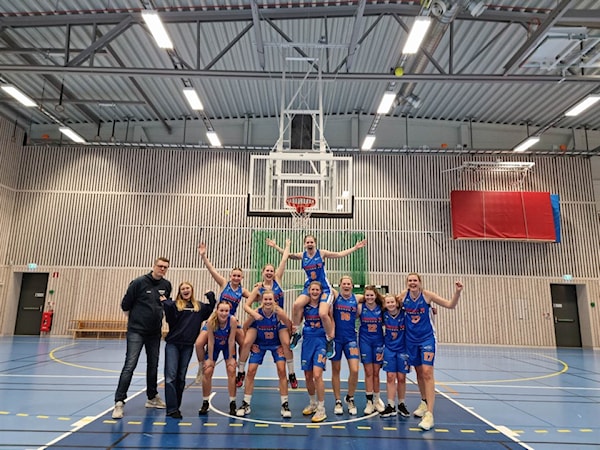 Ring out - but better second half
Hurricanes - Kungsbacka 52 - 31 (12-7, 12-13, 18-9, 10-2)

Kungsbacka, the only team outside of our usual opponents up in the Värmland/Örebro countryside, was tonights entertainment in Hammarhallen B, along with Hurricanes. First time we met there had all the ingredients like a scary thriller movie. Wide open until the end and Hurricanes won by 2. This time Hurricanes got the better of Kungsbacka, and won comfortably in the end.

It was not the most well-played game of basketball in the history of basketball, we all felt that in the team. Both teams had a very hard time making shots with a clear lack in self-confidence as it went on which was clear to see from the side. We really could not make any shots it seemed apart from layups, freethrows or from close range, despite taking good, open, balanced shots most of the time. This is the beauty of sport, in a way - you really never know what kind of game it will be and have to treat every game as its own. Nothing is granted and you always have to earn and prove yourself - every time.

We take a lead in the beginning, but we are behaving like we are chasing and its the last quarter - not really sure why, perhaps we did not have the right mental state as a group today. In half time, after a poor second quarter from us, the game is 24 - 20 in our favor. Time to regroup and talk things over - how to beat a press and to be more aware of things around us. We kinda all felt that the first half here was not very good, and we can play much better.

In the second half our play improves. More direct, if you will, with less "krusiduller" (transtate that! - crusidulles?). We still have a hard time shooting but our defence is better and we force Kungsbacka, who were also struggling with their shooting, to take long-shots most of the time. We make it tight and tough close to the basket and use our size. We mix some man-man with zone and that confuses our opponents sometimes.

A good lesson for the team, and we are all accountable for our collective performance. From youngest to oldest player to coach. We talked about this just 2 days ago, that there might be some kind of a bump in the road coming up. Maybe we should not talk about bumps in the road :) Every season has at least one, sometimes more. Its not fun when it happens, but there can be positives from it too. Sometimes you need to perform below par in order to perform better again. We all made mistakes today but sometimes that happens. Its not the end of the world, and the best part is - there will always come new chances, both for players and coach.

Now it almost sounds like we lost but we won in the end, and we take the positives, that we were able to improve a very tough start and finish the game better. That will strengthen the group going forward.

Now the team has a few weekends without games. That will be good I think, a little break in the schedule. We play Kungsbacka again, down in Kungsbacka on the 19th of March. I know the team pretty well by now, and I KNOW the team will come VERY hungry to that game. But before that, we go to watch the highest womens league once again down in Mark. Inspirational with great female athletes and a fun team activity too! Who wants to sit in the coach-car? I offer P1 or P4 on the radio ALL THE WAY!