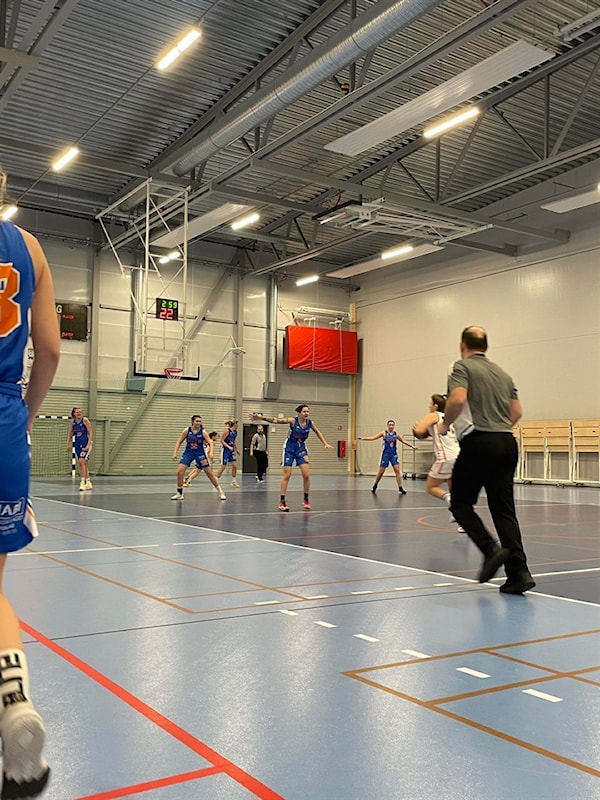 Morning routine = win basketball games!
KFUM Örebro - Hurricanes 50 - 70 (6 - 19, 13 - 14, 10 - 20, 21 - 18)

"Let it snow, let it snow, let it snow" could have been the anthem for this game. Real swedish weather and safe driving to Örebro for game 4. The snow poured down and we found Anna standing all alone in a roundabout out in Skattkärr. We decided to take her with us... Are we not nice?

Last time we played Örebro it was a very hard fought game. We managed to wear them down that time over the course of the game. The same thing could be said about this game. Örebro had a couple of players in foul trouble early and with 7 players, that means its going to be a marathon.

We tried a version of a matchup-zone today. It developed during the game to a hybrid of man-man and zone with the 3-2 zone as base. This worked very well and we held the opponents to low scoring for most of the game. We are going to keep tweaking this more for the future. Credit to the players for executing the match-up zone good despite not having practiced it a lot. We felt as a team that it suited us well against Örebro. Offensively we got going in the middle of the first period, and from then, we controlled the game. This time it felt like we had more control than last time. We managed to once again increase the tempo and run on them. We also utilised our big players good, both as scorers and as "point-centers". When we do this, we are hard to stop, with many different threats in the offense.

The second half is mostly cruise control, with the exception of the last 5 minutes when Örebro polished the numbers a bit with good shooting. The game was already won, and sometimes as a player you loose that edge before its over. I can understand this, I have been there. We lost the edge and looked scared. We managed to get going a little bit, but there was too much on the scoreboard in our favor for it to be really dangerous.

Max Burger in Karlskoga to celebrate and I see a team sitting there that are operating in complete harmony with eachother. Wins helps, of course, and our play is getting better and better. There is a sense of calmness and experience in this team and this makes us better. Its hard to compare teams, last years team had some really great times and very fun to coach. This year is a little different but has the potential to match last years team.

Next game is home vs Arvika thursday 16/2 at 18.30. Those games are always fun and well-played so I look forward to that.